Aug
28
Wed
Dance Temple ~ 6 Week Women's Circle & Ecstatic Dance ~
Aug 28 @ 7:00 pm – Oct 2 @ 9:00 pm

There are 12 spots around the circle, We will meet together as a group for 6 weeks to facilitate going deeper and honouring the energies of the sisters that arrive to be part of this journey. The circle will close after our first week, no drop ins.
WHAT YOUR WILL RECEIVE FROM THIS 6 WEEK CIRCLE:
*2 weekly hours of dance ritual
*Weekly take home embodiment exercises and question for deeper integration
*Deeper appreciation, joy and connection to your body
*Greater understanding of who you and how you are showing up in the world
* Access to discounted one-on-one coaching sessions with Liz
*Access to 1, 30 min check-in coaching calls with Liz
Aug
30
Fri
New Moon New Beginnings Circle Aug 30th 7-9pm
Aug 30 @ 7:00 pm – 9:00 pm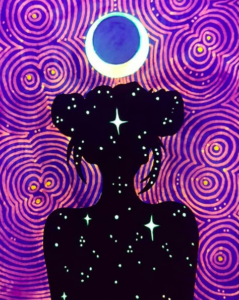 With summer at its end, it is time to move deep into the harvest of the year and the time we start a new season of abundance. Take charge of the season by initiating on this new moon your intentions.
A New Moon marks the beginning of a new cycle, a fresh start in it's cycle of waxing and waning. During this time the Moon is receptive and full of potential.
The New Moon provides us with an opportunity to take the time to create sacred space for ourselves by deepening our connection to the Earth. Our gatherings will include rituals that enhance our relationship to the moon and the energy of what she brings to us for the month ahead.
On these new moon nights we will plant seeds of intentions for what you wish to manifest in your life.
Full details here:https://www.therockstore.ca/products/new-moon-new-beginnings-circle-aug-30th