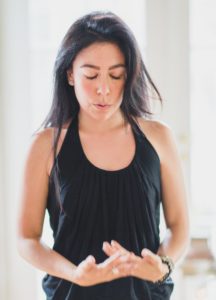 My Wise Body ~ A Women's 6 Week Journey into the Sacred
October 5th – November 12th (Next Round starts Dec 1st)
Arrive to the temple of your divine feminine body and re-awaken to your body's inner wisdom.
Are you:
Seeking a sacred space to tune into your body's inner wisdom; for healing, guidance, and inspiration?
Wanting to learn tools and exercises to enhance your ability to listen to your body's messages?
Ready to gain a deeper connection to your divine essence while enhancing your physical and emotional well being?
Ready to show up authentically with all of who you are and build a relationship of trust, acceptance and love with yourself through embodied awareness?
Ready to acknowledge, honour and release; stuck energy, emotions and stories from your body?
Feeling called to be in circle with like-minded women where you can feel accepted and supported as you are?
Are curious and open to using expressive free-formed movement as a tool for your spiritual growth and healing?
Through carefully curated practices of mindful embodied awareness, expressive movement, and ritual, this course has been created with the intention of guiding you back home to the wisdom of your body.
Are you ready to reclaim the wisdom and power innate to your body and divine feminine essence?
NEXT COURSE DATES DEC 1st to JAN5th 
Week 1: Honouring our Cycles; Acknowledging Where you are at in Your Journey
Week 2: Coming Home ~ Sacred body, Sacred wisdom
Week 3: Mindful Awareness & Intuitive Embodied Listening
Week 4: The Body A Storehouse ~ Moving with our Emotions and Life Experience
Week 5: The Art of Self Compassion ~ Finding joy, Nourishment & Learning to love the body You're In
Week 6: Dancing with Possibility, Power & Presence
Flow of Course:
During the 6 weeks of our journey on Monday's, you will receive access to a new module via your inbox. Each module contains core teachings plus bite size embodiment practices; a blend of recorded meditations, self-inquiring journaling prompts, playlist and rituals to connect you to your divine essence and support the teachings from that week.
On TuesdaysLiz will host a 1hr call @1pm EST to answer questions about that weeks core teachings, as well as offer a short embodiment practice to help you staying connected to your body. These calls are OPTIONAL, and will also be available for replay.
During the course Liz will be available for you to schedule 2 private coaching session. This session is for your to receive individual support and accountability as you set your intentions for your embodied well-being beyond the timeline of our course.
What You Will Receive from this 6 week course
Access to The My Wise Body online course platform with recorded meditations, self-inquiring journaling prompts, self-care practices, and rituals to connect you to your divine essence.
6 playlists, that you can use beyond the course
2, private session coaching with Liz
Membership to a private Facebook group, dedicated to connecting you with the other women in the course, to share and receive support and inspiration.
Free Access to Dance Temple Group Sessions for the duration of course. 
Book list for continued learning and reading
Deeper appreciation, joy and connection to your body and the divine within you
Greater understanding of who you and how you are showing up in the world
How to sign up
The self care investment for this 6 week course:
$289
CDN if inside Canada; USD if outside Canada
Payment can be made via e-transfer (inside Canada) to liz@lizdiaz.ca. or PayPal (outside of Canada) using this link paypal.me/lizdiazservices
I know these are financially challenging times for many, please message me directly if you need a payment plan.
Questions? email me liz@lizdiaz.ca or direct message me to book a call.
What women are saying about working with Liz:
"What an experience! Liz is a phenomenal, compassionate facilitator. From the moment you step into the space to the moment you leave, you can feel all the love and care she has put into creating a safe and welcoming space. She truly creates an experience for you to move, shift, transform, laugh, cry and explore the depths of your being. You can feel her passion in her attention to detail from the music she chooses, the words she speaks and how she facilitates the beautiful, flowing energy. Thank you for the amazing and beautiful women's circle and dance experience." – Sam Warren – Holistic Wellness Practitioner
"I attended Liz's Fly Free women's circle and ecstatic dance a few weeks ago on my birthday and it was the greatest gift I could give myself! To share in sacred space with sisterhood, support, intention, connection, and magic as we all pushed ourselves to spread our wings wide and fly free, was intimately divine to me! And the love, presence and pure sweetness that emanates from Liz Diaz makes her the perfect guide! "- Shannon Glashan – Women's Circle & Dance Participant
"Dance temple has allowed me to explore the parts of me that don't yet have words and uncover them through movement, all within the safety and support of an incredible circle of women. This Dance Temple series has lefts me feeling excited for the possibilities to come in my life". – Dance Temple Series Participant