Body Prayer ~ A 6 Week Program Women's Dance Circle ~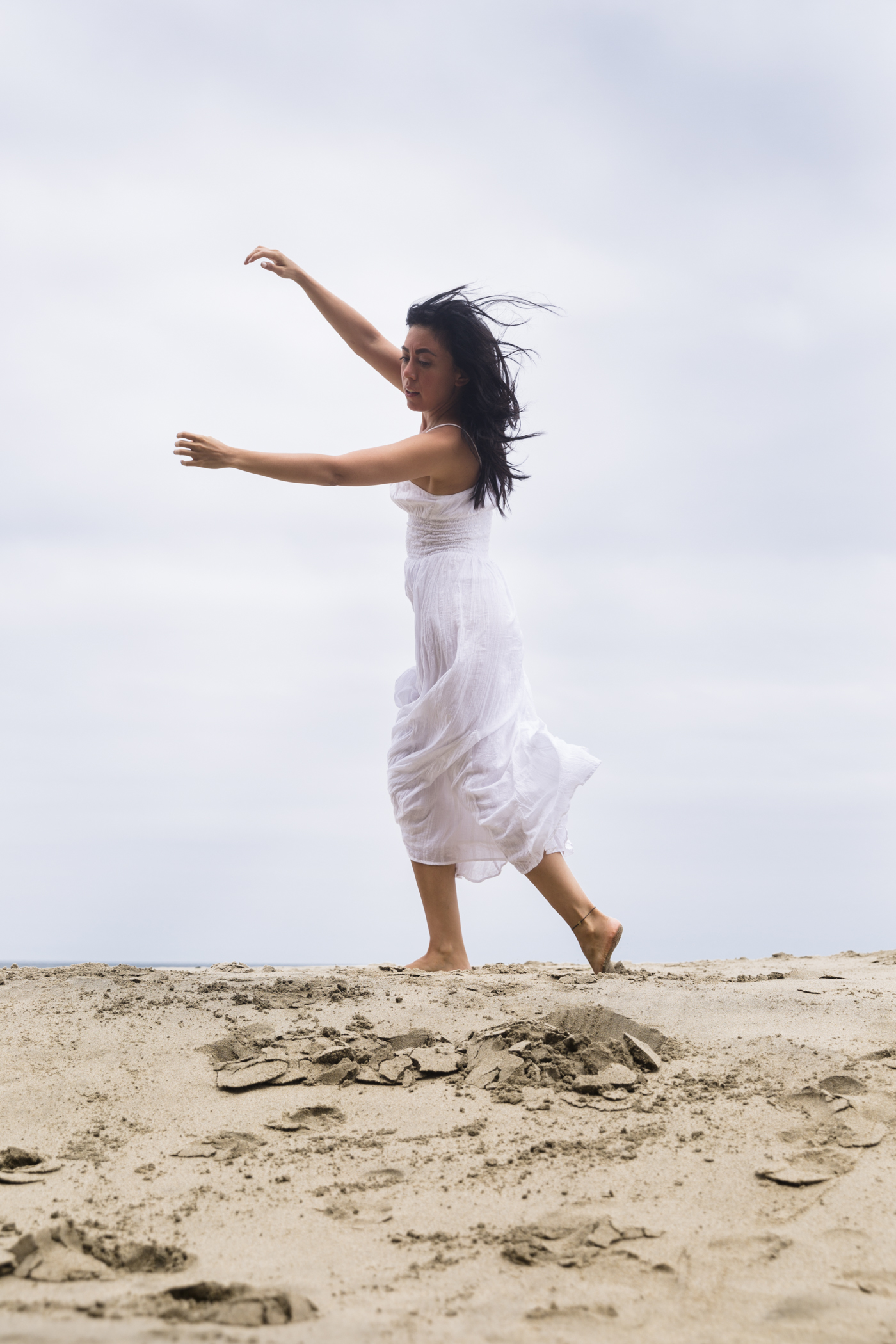 Body Prayer 
Close your eyes….Take a breath….Now gently follow your breath inside your body….Take another pause…This time take a slightly deeper breath and follow it once more inside, see where it takes you. Sense what your breath awakens inside of you…Is it a sound that moves through your throat, is it a gentle wave of pleasure arising from feeling your spine and hips expanding as you breath, is it a light that you sense flowing from your heart? ….This sensation may be subtle or may be strong….Continue to follow the sensations until you feel an impulse, a spark to move into movement.
Let your body lead … How does spirit (your highest-self, goddess, divine, mother earth) arise through your body? What does spirit want to tell you through movement? What guidance does it have for you, that is waiting to be embodied.
You are the vessel. Let yourself open to receive it's prayer for you.
THIS IS BODY PRAYER
Body Prayer is a dance ritual for self-discovery, celebration and transformation
Body Prayer gifts us the opportunity to find stillness, to listen, and to nourish our relationships with our bodies
Body Prayer is a place where we can meet and be guided by the innate wisdom of our breath and our bodies for our path and highest good.
Body Prayer is for Woman who wants to reclaim the wisdom and power innate to her body and spirituality
Especially if you have been:
~ Feeling disconnected from your body 
~ Ready to release, fear, shame, guilt and step into a path of presence, joy, and pleasure
~ Looking to deep dive into your spiritual path.
~ Ready to show up authentically with all of who you are
~ Have been craving an oasis where you can tune-in to your bodies inner wisdom, for guidance, direction and inspiration.
~ Seeking to participate in woman-centered rituals and acquire tools to gain a deeper connection to your spirituality and divine essence
~ Feel called to be in circle with like-minded women where you can feel accepted and supported as you are
~ Love to dance and want to use it as a tool for your spiritual growth
If you answered YES, Welcome to the Circle!!
WEEKLY FLOW:
Week 1: Honouring our Cycles, Acknowledging where you are at in your journey
Week 2: Earth to Ether – Body Wisdom, Intuition & Accessing Higher Realms
Week 3: Opening The Circle – Opening the Gateway to Transformation
Week 4: Invocation – Harnessing the Power of your Feminine Nature
Week 5: Activation – Embodied Alchemy & Manifestation
Week 6: Closing The Circle – Surrendering to the knowing of our Divine Nature
ABOUT THE DANCE 
Liz will lead a DJ'ed dance (a fusion of Ecstatic Dance & DOWH non-facilitated and lightly facilitated free-formed movement practice) for deep connection and expansion and exploration. Ecstatic Dance is a unique freestyle conscious dance experience, guided by an intention/theme, and a curated arch of  world music, that takes you on a journey of personal exploration, and liberation.
Ecstatic Dance is therapeutic in nature, as it provides a space for you to physically move and connect to your emotions.  Ecstatic Dance is part of the larger umbrella of Conscious Movement.   A moving meditation of sorts, as there are no specific dance moves, it is a free dance, guided by your own expressive improvised movement. There are 3 basic guidelines to Ecstatic Dance. We dance barefoot. Our body is our guide.  There is no talking on the dance floor.
What is Dance Our Way Home (DOWH)? DOWH supports women to embrace and celebrate our Sacred Feminine, to be free from restraints, to be enamoured by our own breath and dance, and to fall head over heels in love with our self and with everything and everyone" – Erica Ross co-founder of DOWH
WHAT YOUR WILL RECEIVE FROM THIS 6 ONLINE WEEK CIRCLE:
*Six, 60min ecstatic dance playlists and guided meditations to support your connection to your body and the divine feminine. 
*Weekly workbooks with ritual and altar suggestions plus embodiment exercises and journaling question for deeper integration of your ecstatic dance ritual experiences
*1 Group Ceremony with sisters in the course 
*Access to coaching calls with Liz over the 6 week course                                                               *Membership to the Dance Temple Facebook Community for daily inspiration and support. 
INVESTMENT:
$395 
This Course Runs every 6 weeks, email liz to secure your spot.  In person sessions also run in Toronto, Lima & Cusco Peru please direct Email Liz to find out the next in person dates. 
What People are Saying About Body Prayer 
"Seamlessly perfect musical journeys that caused body provoking connections"
"Musical mystical meditations for my body"
"Reverent awareness through dance connection"
"This dance series help me ground into my body, find freedom and set myself lose"
"A safe space for me to explore my bodies needs through movement and connect to the divine"
"Loved having a place where I could come to weekly to dance to great music, and create altars and rituals that acknowledged my divine feminine energy"
"Thank you for gracefully creating a safe space for women to explore movement and dance as a means of self-discovery. It has been a wonderful exploration for me. I have realized that profound personal change can happen through mindful movement"
"I learned new tools that help me get clarity, and connect with myself. I felt very supported in my journey. Liz does a great job of creating a very open and judgment free environment. I liked the format of each session with a theme to explore, the music and dance journey an opportunity to reflect and share in circle with other like-minded women made it for a powerful experience" ~ Natalia
"What an experience! Liz is a phenomenal, compassionate facilitator. From the moment you step into the space to the moment you leave, you can feel all the love and care she has put into creating a safe and welcoming space. She truly creates an experience for you to move, shift, transform, laugh, cry and explore the depths of your being. You can feel her passion in her attention to detail from the music she chooses, the words she speaks and how she facilitates the beautiful, flowing energy. Thank you for the amazing and beautiful women's circle and dance experience." – Sam Warren – Holistic Wellness Practitioner