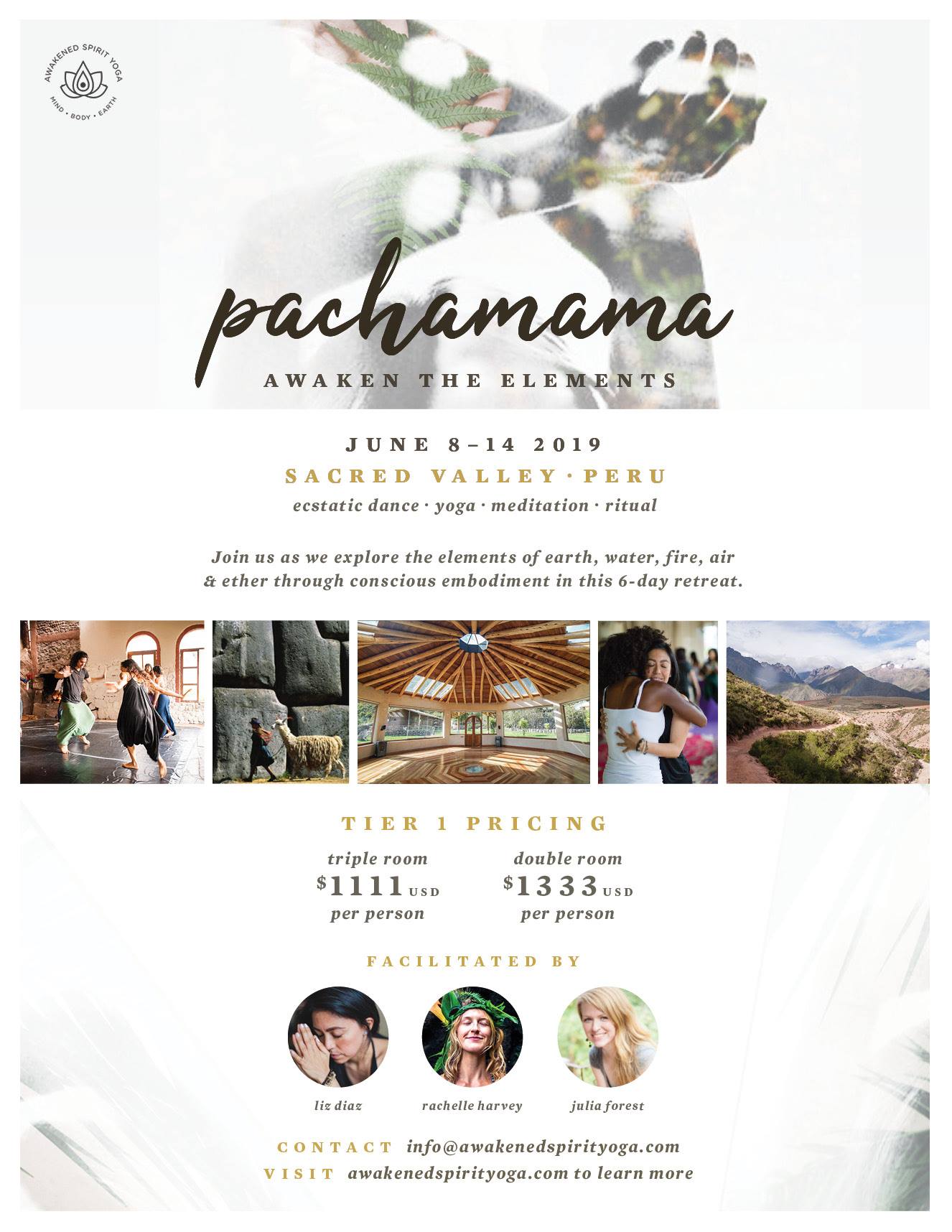 Pachamama ~ Awaken the Elements
ecstatic dance + yoga + meditation + ritual
In the heart of the Sacred Valley, surrounded by ancient Inca sites and the Andes mountains, dive deep into the wisdom of your own body, remembering, reclaiming and recalibrating it's expression as a pathway to bliss.
Pachamama means Earth (Pacha) Mother (Mama) – in Andean cosmology Pachamama is the goddess that resides over planting and harvesting. She is honoured by the Andean people as an ever-present and independent force that uses her creative power to sustain life on earth.
Join us as we explore our own creative energies through conscious embodiment of the elements of earth, water, fire, air & ether. In our 6 days together we will utilize dance, yoga, meditation, expressive art, eco-therapy and ritual practices to allow a process of inner alchemy to take place.
The mythology of Pachamama, will act as an anchor to our journey, reminding us of the interconnected and sacred nature of all things as we explore our creative capacity.
IN THIS RETREAT YOU WILL:
Explore dance as a healing and therapeutic practice
Nurture and bring ritual into your daily life
Experience 4 elemental ceremonies
Be nourished by 3 local, organic meals each day
Rediscover the creative expression of your body
Release what no longer serves and create space for more ease, grace and flow in your life
Ecstatic Dance
The modality of Ecstatic Dance can help us access a state of deep embodied consciousness, taking us into a profoundly healing and meditative state of peace, freedom and joy.  Ecstatic dance is an ancient practice, used in many shamanic traditions to support release of stuck emotions, energetic blockages, and increase body awareness. During our retreat we will dance daily, to connect to our power within.
Ritual
Ritual is a powerful way that we can reclaim our spirituality in our lives. Many of us don't identify with a structured religious practice; leaving us to create our own ways to commune with the divine. When we have rituals in place they help us anchor our lives into the divine. Bringing deeper levels of presences and intentional about the way we move along our day to day and keep us focused along our divine path. During the our retreat we will journey through 4 elemental ceremonies; A water ceremony, fire ceremony, sound healing ceremony (air) and Dispacho ceremony (earth) a traditional Andean offering to the earth. Why are we working with the elements? The elements are a profound yet simple way that we can access and remember our infinite power. The elements act as symbolic archetypes that we can tune-into for support.
During our retreat we also learn how to incorporate/strengthen our daily ritual practices.
Yoga + Meditation
Daily yoga and meditation will support the space we create together during our retreat. We take a holistic and heart-centered approach to yoga, mixing Hatha and Flow styles in a therapeutic way designed to help you deepen your understanding of yourself, your body, each other, and the earth. The classes are appropriate for all levels of movers, from beginner to advanced. As we journey through each of the elements, we will explore their unique characteristics through the innate wisdom of our own bodies and the shapes we make. A guided meditation practice each morning will also support our practice.
Sound Healing
Everything in the universe vibrates at a unique frequency including ourselves. When we tune into the frequency of sound, we open up to the pure healing vibration it has to offer us. Sound will be incorporated as a healing [modality] throughout the retreat….
Location
Munay Sonqo + The Sacred Valley
Our location for this retreat takes place in the Sacred Valley of Peru, nestled into an oasis of native plants, fruit trees and a magnificent waterfall nourishing the land at Munay Sonqo Retreat Centre.
The Sacred Valley is a majestic spot in the Andes Mountains and home of the twelve mountains known as Apus – "luminous beings" who are said to intercede on behalf of people. At Munay Sonqo guests have the opportunity to commune directly with these mountains, as well as with the local curanderos (healers) during ritual and ceremony. It is an incredible place to connect to the depth and beauty of what nature offers and we believe our world today benefits greatly from contact with these ancient lands and ancient ways.
Guests at Munay Sonqo are served delicious meals with locally-grown and lovingly prepared ingredients. Each room is a reflection of the Peruvian culture of the Sacred Valley. The entire center including the staff here embody the kindness, love and wholeness that permeates this magical place.
Retreat Faculty
limited spaces are available in each pricing tier
Price includes 6 days of retreat activities, accommodation & 3 organic vegetarian meals per day.CLAIM YOUR SPOT HERE