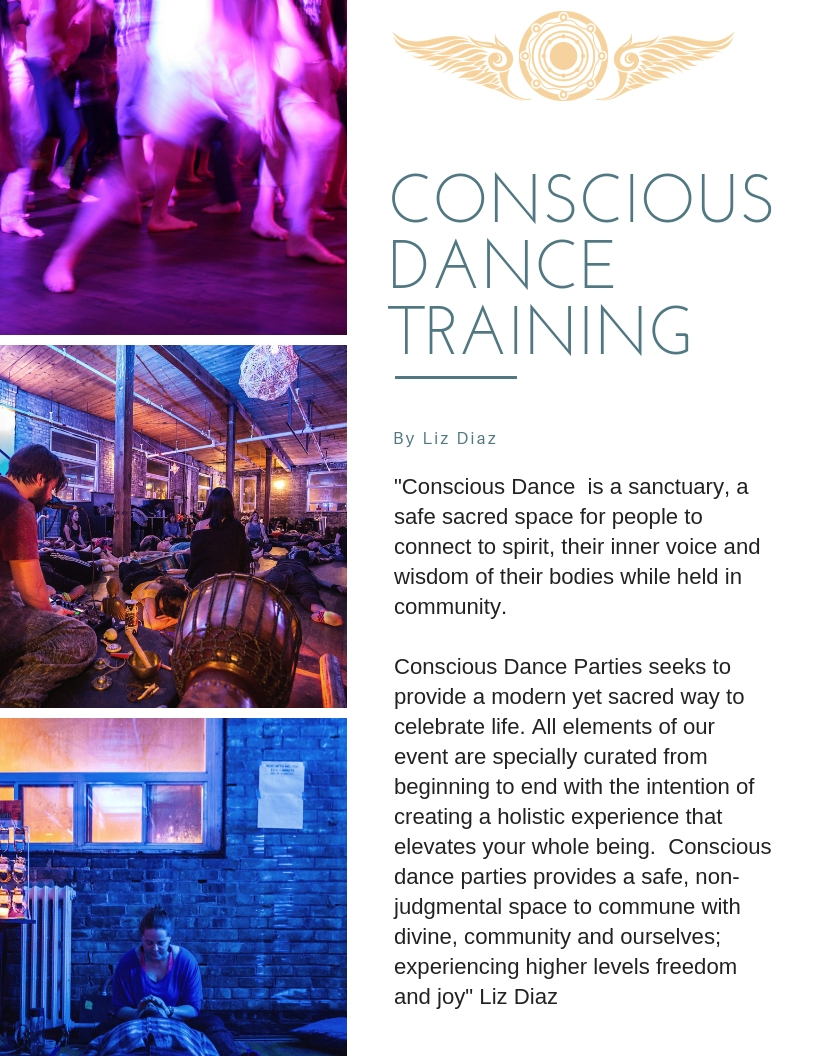 Facilitator Training
Intention for this training is to provide a clear cohesive framework for creating conscious dance events that can be replicated and adjusted to meet your specific vision and the needs of your community. Each one of these modules builds on the previous module. This training places a lot of emphasis on building systems for creating and running a conscious dance event so that you immediately start getting hands-on experience and feel confident in running your own event.
Prerequisites for taking this training:  committed movement practice and a spiritual practice.
Module 1 
Topics to be covered:
Opening Circle & Setting Intentions
Ancient Roots of Ecstatic Dance, A Community Ritual
Gabriel Roth, Maps to Ecstasy and the 5rhythms the Mother of Ecstatic Dance
The Rise of Conscious Dance; Review of the most common types of conscious dance events currently practiced in the world and their commonalities
Ecstatic dance structure and community agreements plus the distinction of what makes ecstatic dance so special
Overview of how to create a safe dance container, guidelines and boundaries
Module 2
We will spend a lot of time dancing, as we experience how different musical genres can come together to create a successful dance journey.  We will also learn the basic technical aspects of curating an ecstatic dance set, as well as how to mix songs, setup up sound, and work with virtual dj software. As well as get you visioning and taking actions on creating your first dance.
Topics to be covered:
–  Curation of an 90min ecstatic dance arch; best practices for picking music, as well as the do's and don'ts for creating an ecstatic dance set.
-Introduction to Virtual dj software basics, learn how to cue and mix songs together to help make your ecstatic dance journeys seamless.  In this section we will also cover how to organize your music library as well as where to find music!
– Visioning;  we will spend some time visioning what your dance will look and feel like and from there we will work with an ecstatic dance event template to bring it to life.  You will walk away with an event planning timeline with step by step actions you need to take 1month before the event, 2 weeks before the event, 1 week before the event and day of event
-We will also cover venue requirements for you to be able to run an ecstatics dance
-Team roles and team building
-Community engagement
-Creating a budget/expense sheet for your event.
Module 3
Topics to be covered:
Sales, marketing and administration. Liz will share with you some best practices, to get you started to mastering these topics. In Sales we will look at online ticket systems, and ticket pricing. We will also look at different marketing strategies from grassroots word of mouth, print materials to Social Media and brand ambassadors.
Module 4
Personal Mentorship with Liz
Completion of this training is based on completion of modules as well as submission of personal project submissions are due i.e. your outline for your first dance; theme, warm-up, altar ideas, along with a playlist that is 90mins in length.
Email Liz to find out next training dates or to book your private training session, info@consciousdance.ca